We all have some of our important data and documents on our mac. Along with all the important files and data we might end up storing junk files and it finally leads to the poor performance of our device.
It is a quite tough and important task to clean up your mac. But don't worry if you have some exceptional cleaning apps installed in your mac. They will perform this difficult task for you in just a few clicks.
Here we have brought some of the most trusted and effective cleaners for your mac as there are many options available on the web and not every one of them is effective and safe. So just sit back and further read this article and then decide which cleaner is best for your mac.
Clean Junk Files In MacOS
Here is the list of some of the best cleaner that can enhance the performance of your mac.
1. CleanMyMac
It is one of the most trusted names when it comes to clean junk files. This is a paid app and can provide you some extraordinary cleaning experience. CleanMyMac provides features such as cleaning junk files, uninstalling unwanted apps, etc. This app exactly knows the location where to search for the junk. It also knows which file is necessary to keep so it does not delete the unused but still important files. The app also comes with a free trial version but you can only clean up to 500 MB using it, after that you are required to purchase the license to enjoy the premium services of the app. CleanMyMac offers a simple user-interface so anyone can use it easily.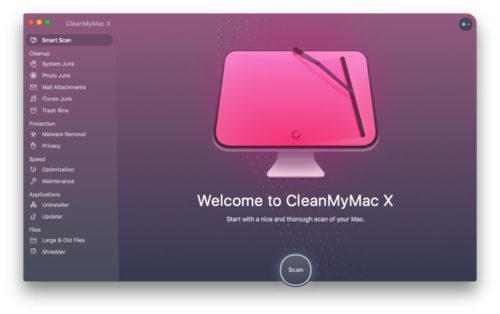 2. ITL Mac Optimizer
If you are looking for a cleaner that can also provide security to your mac from various malware then you must go for ITL Mac Optimizer. This all in one app enhances the performance of your Mac machine as well as provides it with security from malware such as adware, spyware, phishing tools, etc. ITL Mac Optimizer detects junk files and cleans them to keep your Mac device fast. It keeps all the infectious items away from your mac to keep your data safe. ITL Mac Optimizer also provides online security as it checks all the sites that may contain some kind of threats to your mac and keeps your Mac safe from all those threats. Due to all these reasons, ITL Mac Optimizer can be considered as one of the best app to clean mac.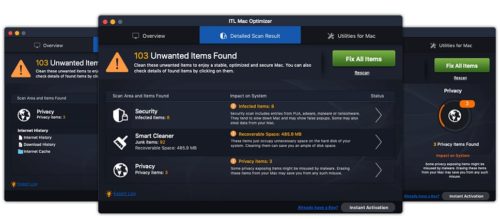 3. MacBooster
Here comes another famous name. MacBooster is one of the most famous and oldest cleaners, security, and optimization app for macOS. It provides so many other features along with cleaning junk files and optimizing your mac machine. MacBooster can provide you security from various kinds of malware and viruses. It can also detect duplicate files and images to free up your storage space. Apart from all these features, MacBooster provides startup optimization also which can enhance the booting speed of your mac device.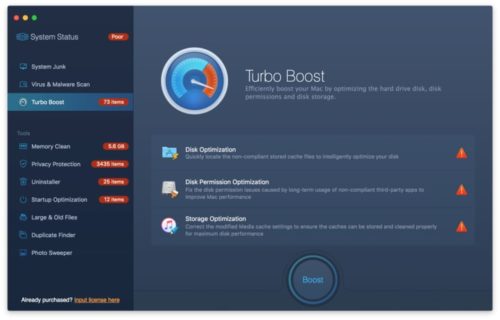 4. DaisyDisk
DaisyDisk is a cleaning app with so attractive visuals. After scanning your disk it shows a colorful map indicating different files and the storage acquired by them. Then you can preview, select and delete any of the files that have been shown by the app. Apart from such stunning visuals it also offers a unique feature of optimization of all the connected disks. It can provide you an overview of all the connected disks including Macintosh HD, flash, etc. Despite such attractive visuals, the user-interface is quite simple so that makes DaisyDisk unique from others.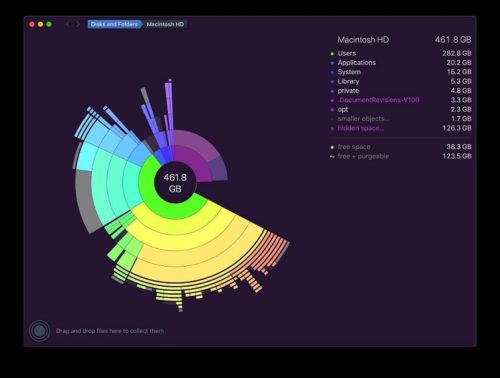 5. Easy Mac Care
Easy Mac Care is the last name on this list. It provides exceptional cleaning and optimizing service to your mac device. Easy Mac Care conducts an in-depth and comprehensive scan and can boost the speed of your mac device. It is a compact app that can surprisingly enhance the performance of your mac device. Despite being a compact app it provides the feature of startup optimization and helps to decrease the booting time of your mac device by striking down the apps that load on the system startup.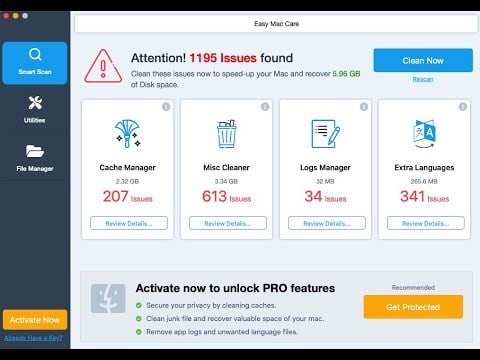 So here was the list of some of the best apps that can be used to clean junk files from your Mac. Each name on the list possesses some unique features, not it's upon your requirements. We hope that this write-up helped you to decide which cleaning and optimizing app is best for your mac device.